Images are for illustrative purposes only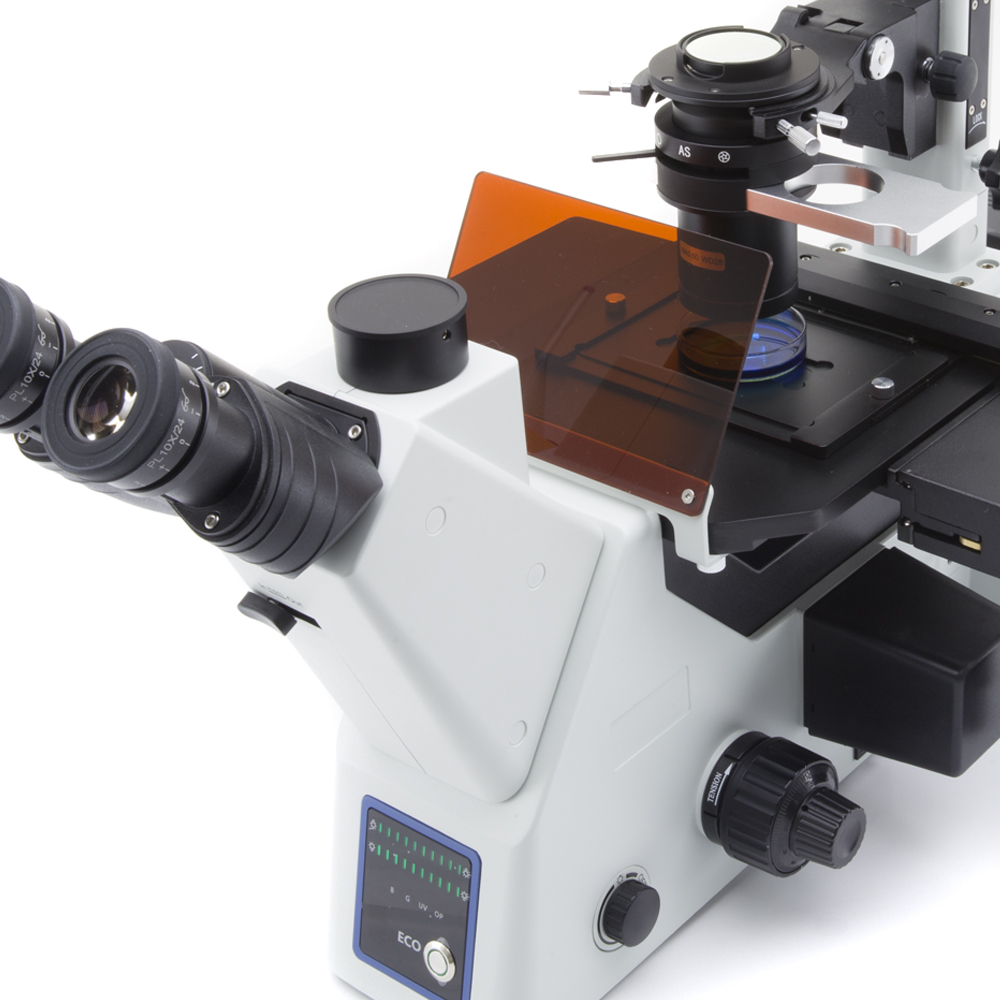 The F.O.V. (field of view) of IM-5 Series is based on a very comfortable diameter of 24mm, being the largest available on the market on its category. A natural and easy view is ensured, especially to view a bigger area and inspect the specimen much faster.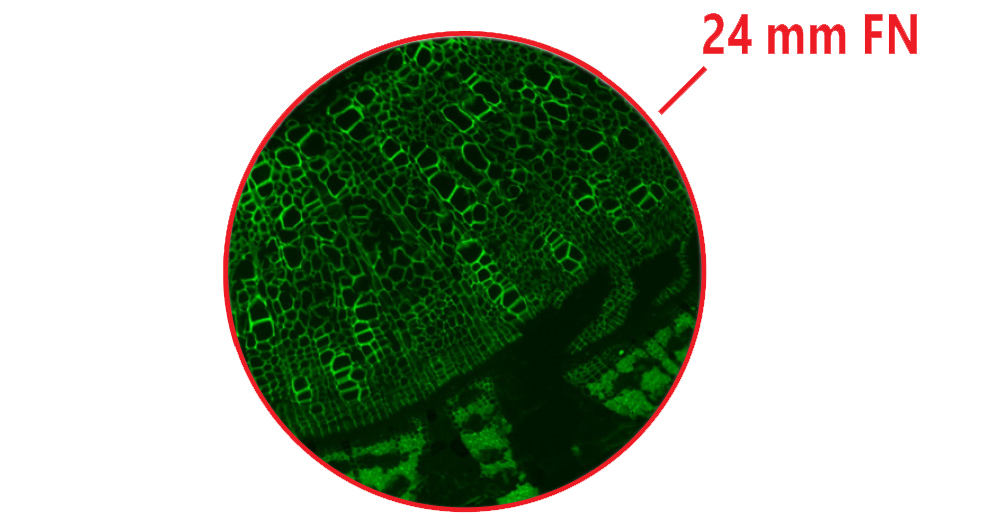 Multiple Observation Methods Available
IM-5FLD means extreme flexibility.
In fact, brightfield, phase contrast, darkfield and fluorescence techniques can be used at any time, to highlight different aspects of your specimen.
Here you can see a Rhizopus sample, seen under (from top to bottom): Blue Excitation, Green Excitation, Ultraviolet Excitation, combination of Green Excitation and Phase Contrast, Phase Contrast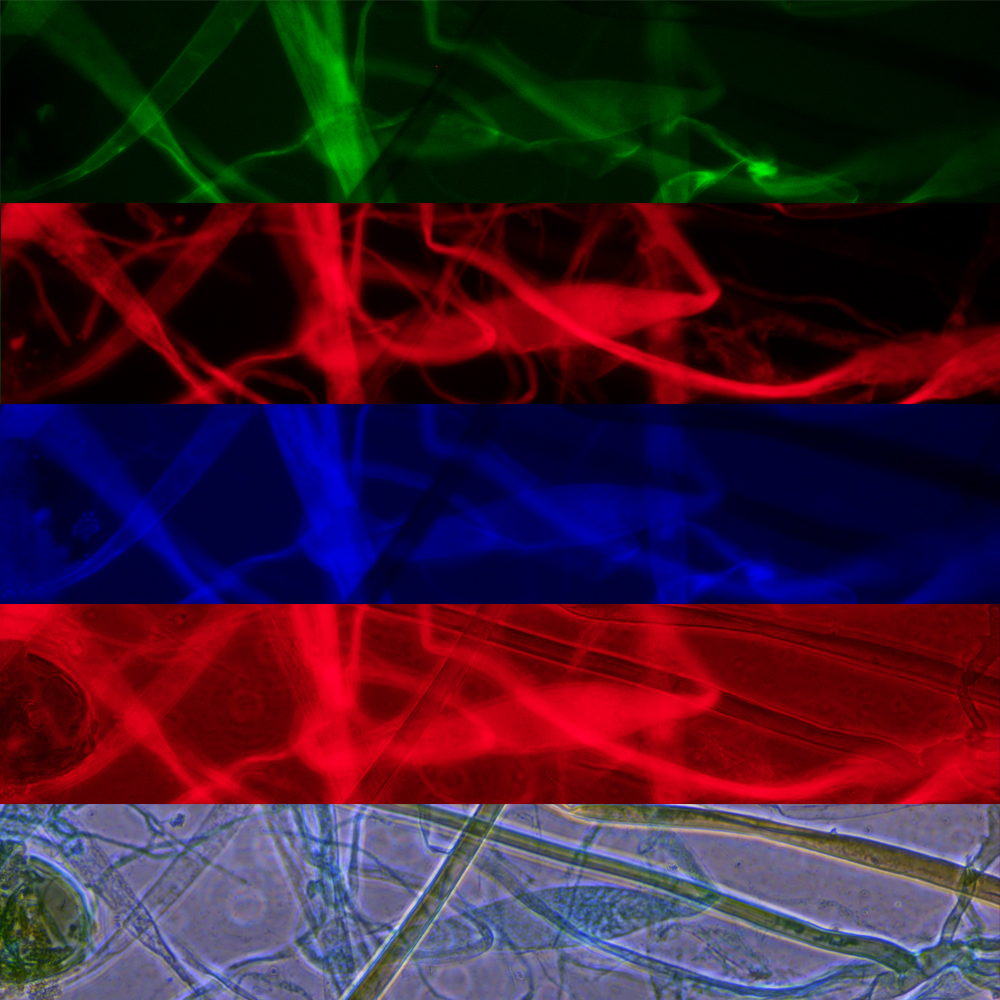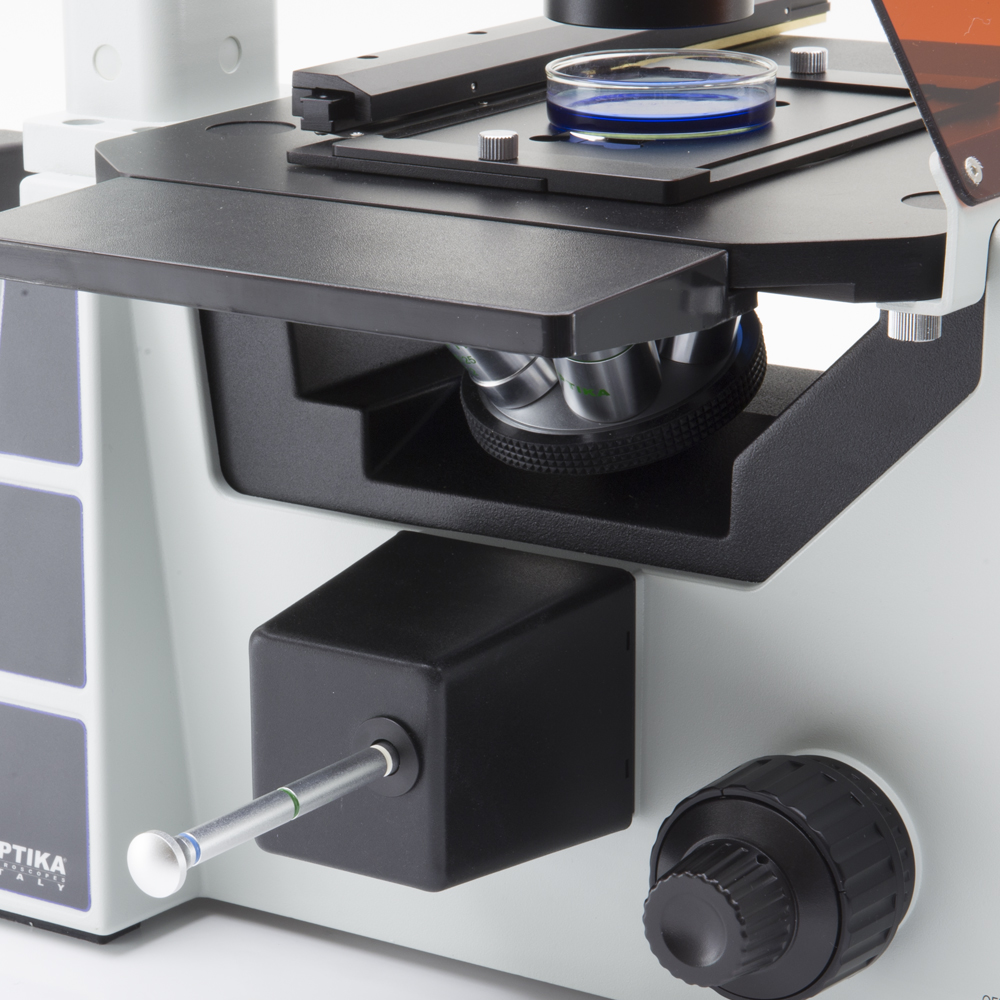 MOTORIZED LED SOURCE SELECTION
Using LED fluorescence has never been so easy!
With IM-5FLD, you will simply choose which filter is needed (among blue, green and UV) and then the microscope will select the most suitable lighting source for you, automatically.
In addition, an extra slot is available for the most demanding users, with the possibility to create a customized configuration.
CHOOSE THE BEST OBJECTIVES FOR YOUR NEEDS
IM-5FLD can be customized by choosing the most suitable objectives, in terms of magnification and type, to meet the several needs of users. Objectives are IOS LWD W-PLAN  and IOS LWD W-PLAN PH  (phase contrast). Or you can choose IOS LWD U-PLAN F and IOS LWD U-PLAN F PH (phase contrast), representing the state-of-the-art fluorite lenses that deliver excellent performance in fluorescence and field flatness up to F.N. 25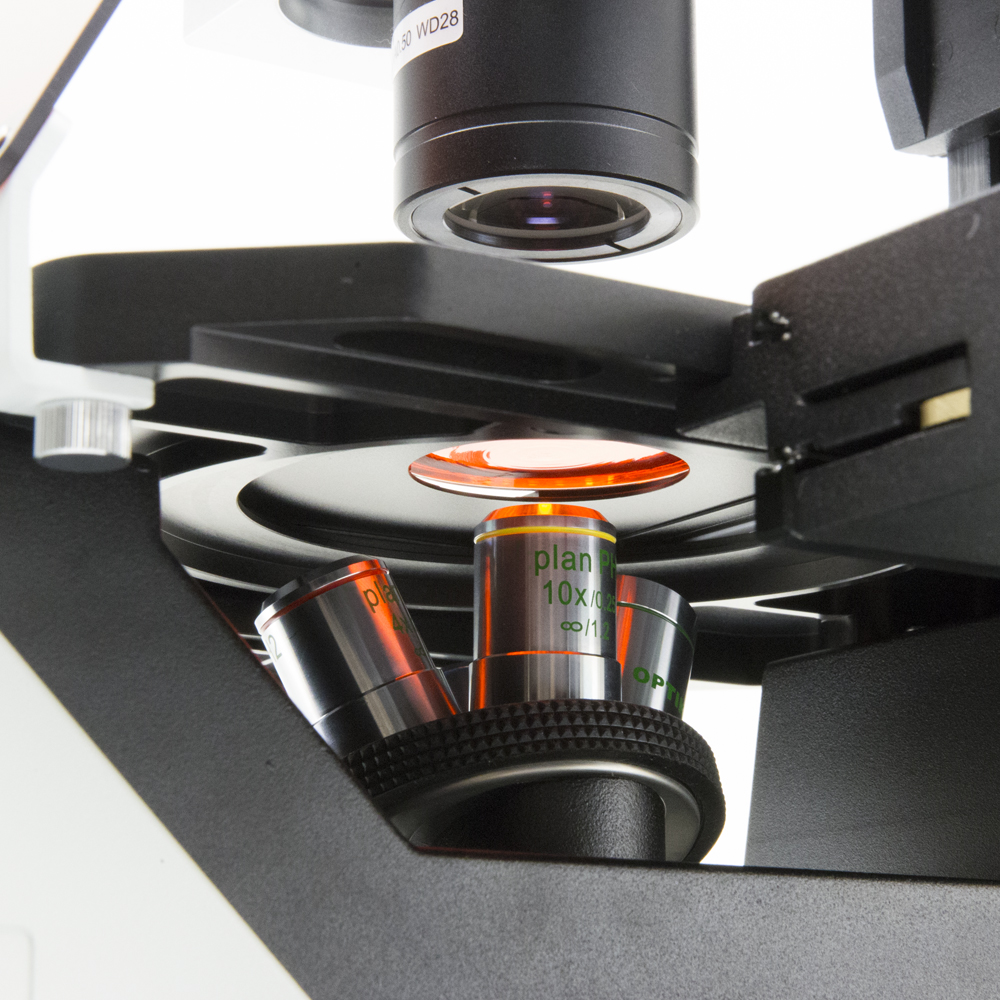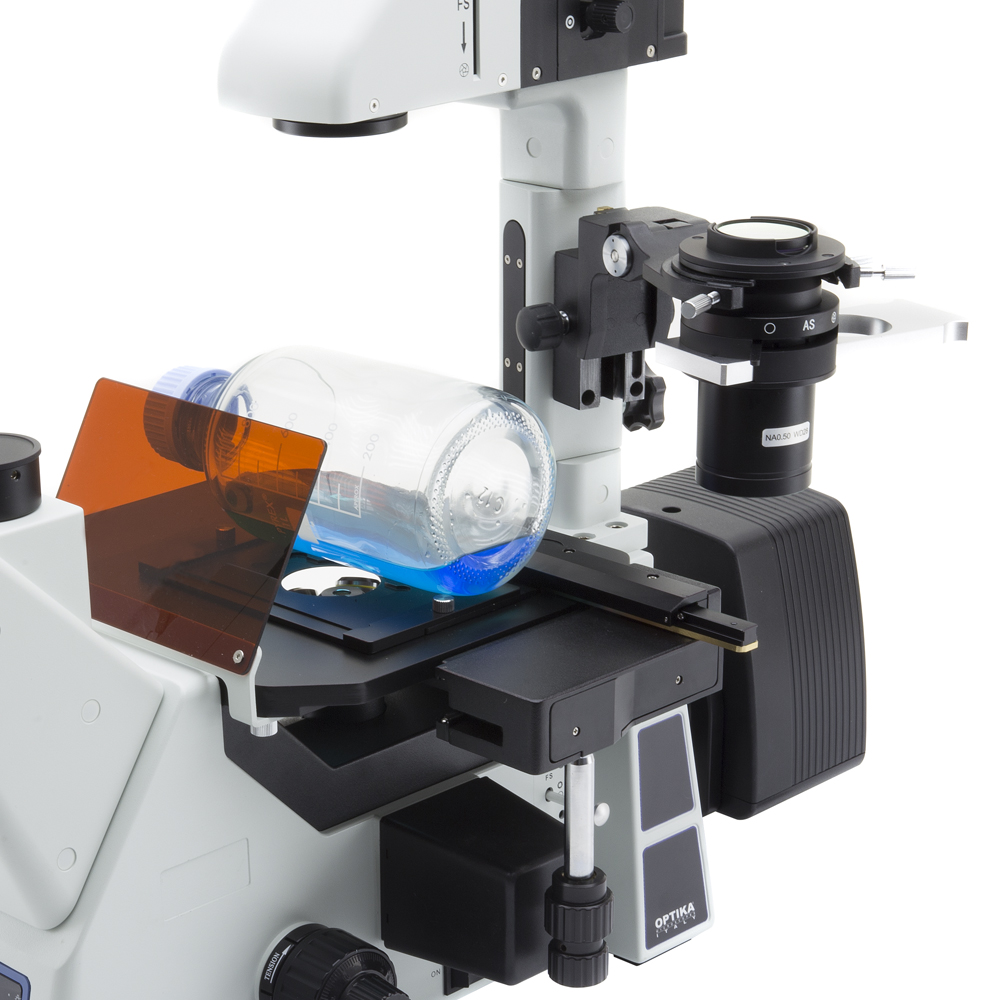 Functional Köhler condenser
The fully adjustable Köhler condenser can be rotated out of the optical path, extending the working distance allowing the inspection of voluminous sample vessels.
PANEL WITH LED ILLUMINATION INDICATOR AND ECO FUNCTION
IM-5FLD ensures significant repeatibility since the level of light intensity set can be seen at any time from the frontal panel in order to reproduce the same conditions. "ECO" button makes the microscope more environmentally sensitive, with automatic switch-off after 20 minutes inactivity.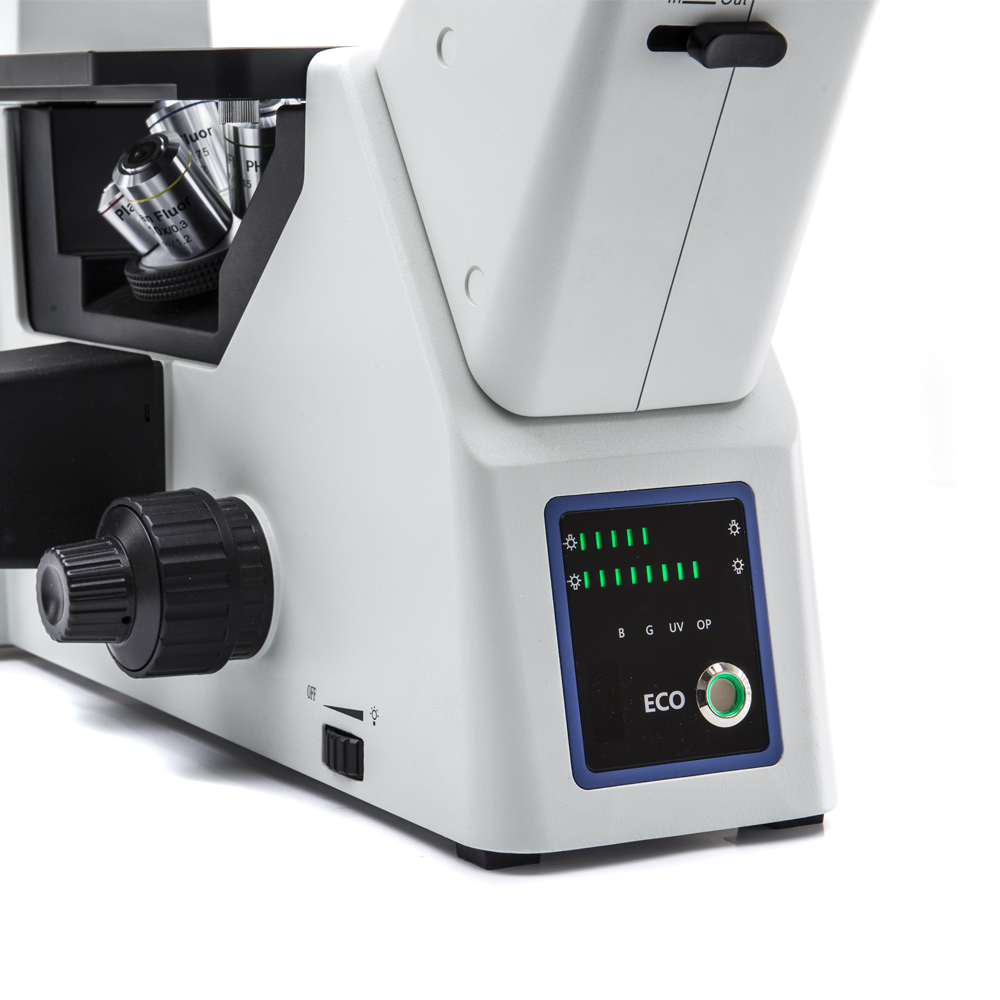 Model: IM-5FLD

---
Observation Modes:
Brightfield, Phase Contrast, Darkfield and Fluorescence
Objectives:
IOS LWD W-PLAN 4x, 40x, 60x
IOS LWD W-PLAN PH 4x, 10x, 20x, 40x
IOS LWD U-PLAN F 4x, 10x, 20x, 40x, 60x
IOS LWD U-PLAN F PH 20x, 40x
Diaphragms:
Field and aperture diaphragms, for transmitted illumination
Field diaphragm (centrable), for incident illumination
Illumination:
Transmitted Illumination: X-LED5 (5 W), manual brightness control
Incident Illumination: High intensity LEDs (5 W each), motorized LED insertion, manual brightness control


Some application examples demonstrating the versatility of IM series. Routine applications are extremely facilitated!