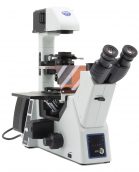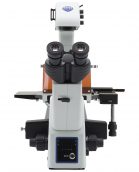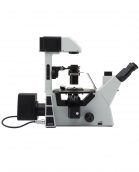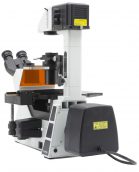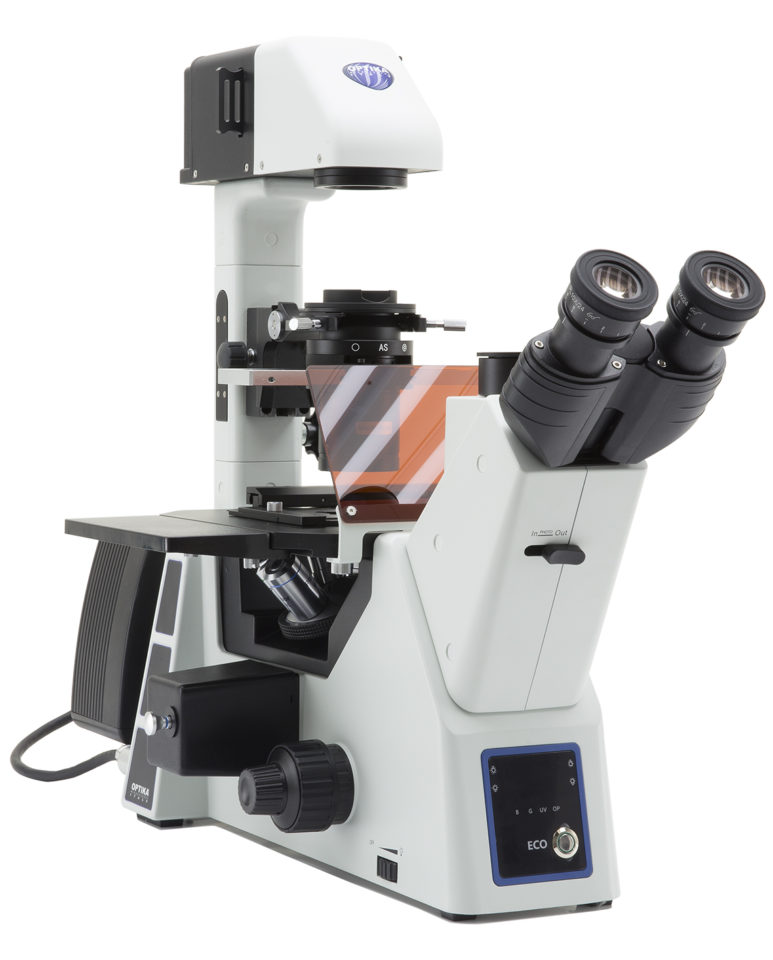 IM-5FLD
---
Back to IM-5 Models
Back to Fluo Models
Observation mode: Brightfield, phase contrast, darkfield, LED fluorescence.
Epi-illumination and filter: High-power 5 W LEDs with brightness control. Motorized LED selection. With centrable field diaphragm. 4-position filter holder; blue, green and UV.
Head: Trinocular (2-position 100/0, 0/100), 45° inclined.
Interpupillary distance: Adjustable between 50 and 75 mm.
Dioptric adjustment: On both eyepieces.
Eyepieces: PL10x/24 mm, with dioptric adjustment, high eye-point and rubber cups.
Nosepiece: Quintuple revolving nosepiece, rotation on ball bearings.
Objectives: Selectable according to customer's preferences.
Specimen stage: Fixed stage, 250×215 mm, with glass and metal inserts. Mechanical stage, 250×290 mm, 120×80 mm X-Y range.
Focusing: Coaxial coarse (adjustable tension) and fine focusing mechanism with limit stop to prevent the contact between objective and specimen.
Condenser: LWD Koehler condenser, N.A. 0.50, W.D. 28 mm, rotatable. With 4x/10x, 20x/40x phase contrast slider, brightfield, darkfield (dry). Removable to extend the working distance up to 220 mm.
Transmitted illumination: X-LED5 with white 5 W LED (5.000K) with brightness control. With field and aperture diaphragms. Auto-off function.


Standard filtersets

---
Name: B (Blue)
Excitation filter (nm): 450–490
Dichroic mirror cut-off (nm): 495
Emission filter (nm): 500-550
Name: G (Green)
Excitation filter (nm): 540–580
Dichroic mirror cut-off (nm): 585
Emission filter (nm): 607-682
Name: UV (Ultraviolet)
Excitation filter (nm): 340-390
Dichroic mirror cut-off (nm): 400
Emission filter (nm): 420LP
Objectives
To be chosen among:
Plan-Achromatic LWD for brightfield:
– IOS LWD W-PLAN 4x/0.13, W.D. 10.4 mm (M-782)
– IOS LWD W-PLAN 40x/0.60, W.D. 3.1 mm (M-773)
– IOS LWD W-PLAN 60x/0.70, W.D. 1.7 mm (M-786)
Plan-Achromatic LWD for phase contrast:
– IOS LWD W-PLAN PH 4x/0.13, W.D. 10.4 mm (M-782.1)
– IOS LWD W-PLAN PH 10x/0.25, W.D. 7.3 mm (M-783N)
– IOS LWD W-PLAN PH 20x/0.40, W.D. 6.8 mm (M-784N)
– IOS LWD W-PLAN PH 40x/0.65, W.D. 3 mm (M-785)
Semi-Apochromatic LWD for brightfield:
– IOS LWD U-PLAN F 4x/0.13, W.D. 18.52 mm (M-800)
– IOS LWD U-PLAN F 10x/0.30, W.D. 7.11 mm (M-801)
– IOS LWD U-PLAN F 20x/0.45, W.D. 5.91 mm (M-802)
– IOS LWD U-PLAN F 40x/0.65, W.D. 1.61 mm (M-803)
– IOS LWD U-PLAN F 60x/0.75, W.D. 1.04 mm (M-804)
Semi-Apochromatic LWD for phase contrast:
– IOS LWD U-PLAN F PH 20x/0.45, W.D. 5.91 mm (M-1177)
– IOS LWD U-PLAN F PH 40x/0.65, W.D. 1.61 mm (M-1178)
Related Documents:
---
---