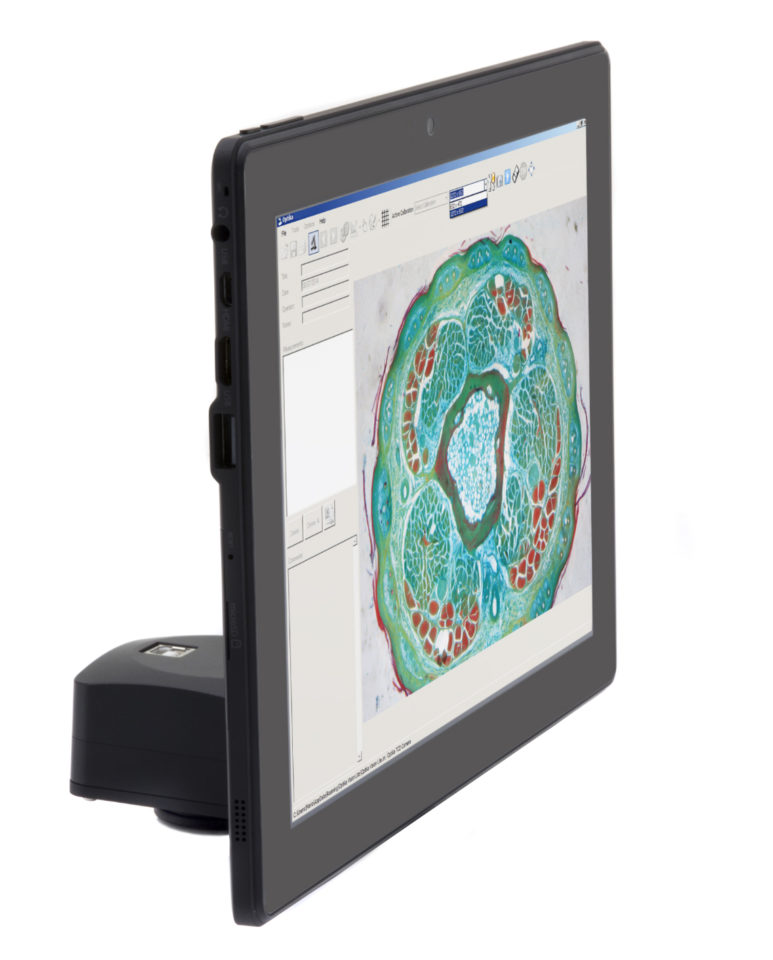 OPTIKA reserves the right to make corrections, modifications, enhancement, improvements and other changes to its products in any time without notice.
TB-3WA
Windows tablet PC with B3 camera, 3.1 MP CMOS, USB2.0, EU
---
Exclusive, powerful Windows tablet PC combined to 3.1 MP camera, CMOS sensor, recommended for discussion groups and educational purposes thanks to the easy operation, space-saving features and unparalleled comfort.
The unique holding solution for open discussion is 360° rotating and tilting for any adjustement, whilst the large touch screen provides fast, responsive and smooth control.
At any time, the tablet PC can be easily detached to be used as a laptop (keyboard sold separately).
Non-stop operation is granted by the simultaneous camera and power connection for long-term use and class/lesson alternation.
Connectable also to all the trinocular tube of different brands using the projection lens included or additional focusable C-Mount adapter.
Downloadable, free of charge software is always available to enable the latest updates.
» External digital camera connected to Windows tablet PC
» Large touch screen with fast, responsive and smooth control
» Easily detachable, can be used as a laptop (keyboard sold separately)
» A 2-in-1 solution that you can use like a PC, being Windows-based
» Simultaneous camera and power connection for long-term operation
» Powerful Intel processor ensuring top performance and speed
» High-resolution, vivid color graphic display
» Crisp 3.1 MP images
» High frame rate
» Reliable color fidelity
» C-mount connection (direct or via dedicated adapter, on any microscope)
» C-mount projection lens and calibration slide included
» Downloadable, free of charge software
» OPTIKA ProView for Windows
Related Documents:
---

OPTIKA – TB-3WA – Technical Datasheet – EN
- 172.91 KB

OPTIKA – TB-3W/TB-5W – Instruction Manual – EN IT ES FR DE PT
- 2343 KB

OPTIKA Microscopy Catalogue - Cameras & Digital Solutions
- 49.33 MB
---