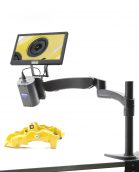 IS-03
---
Real-time full HD auto-focus inspection camera to reduce inspection time (from any angle) on an industrial stand, with 11.5" LCD HDMI screen.
OPTIKA IS-03 is ideal when needing to process high and large samples.
The C-HAF camera can be oriented in any way thanks to the special joint and the highly flexible arm stand, 360°rotating, can be moved in any direction.
The professional 11.5" screen allows an incredibly clear, deep and detailed image view thanks to its high contrast LCD matrix and 1080p resolution.
Small footprint
Save valuable space on the bench
Table-clamp and wall-mount
Freely orientable arm and joint
Related Documents:
---
---