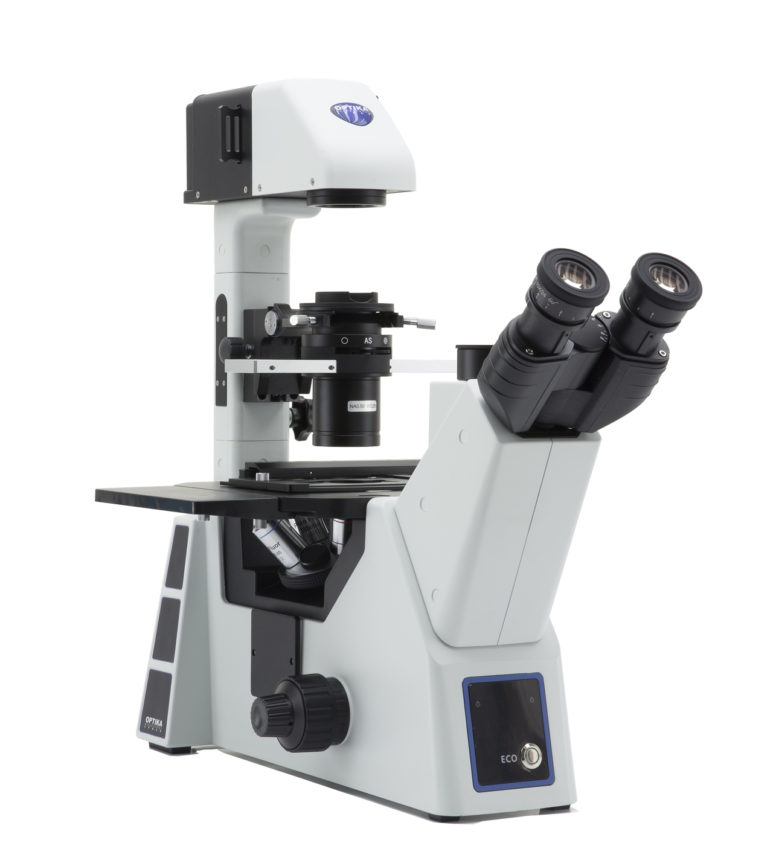 OPTIKA reserves the right to make corrections, modifications, enhancement, improvements and other changes to its products in any time without notice.
IM-5
---
Head: Trinocular (fixed 50/50), 45° inclined.
Dioptric adjustment:  Both eyepieces.
Eyepieces: WF10x/24 mm, high eyepoint and with retractable rubber cups.
Nosepiece: Quintuple ball bearings revolving nosepiece, reversed.
Objectives: Selectable according to customer's preferences. All with anti-fungus treatment.
Specimen stage: Fixed stage, 215×250 mm and attachable mechanical stage, 290×250 mm, 120×80 mm X-Y movement range.
Focusing: Coaxial coarse and fine focusing mechanism with limit stop to prevent the contact between objective and specimen. Adjustable tension of coarse focusing knob.
Condenser: Abbe N.A. 0.50, removable, with iris diaphragm and slider for phase contrast.
Transmitted illumination (Full Koehler): X-LED8 with white 8 W LED and brightness control. Color temperature: 6,300 K. Multi-plug 100-240Vac/12Vdc external power supply.

Objectives
To be chosen among:
Plan-Achromatic LWD for brightfield:
– IOS LWD W-PLAN 4x/0.13, W.D. 10.4 mm (M-782)
– IOS LWD W-PLAN 40x/0.60, W.D. 3.1 mm (M-773)
– IOS LWD W-PLAN 60x/0.70, W.D. 1.7 mm (M-786)
Plan-Achromatic LWD for phase contrast:
– IOS LWD W-PLAN PH 4x/0.13, W.D. 10.4 mm (M-782.1)
– IOS LWD W-PLAN PH 10x/0.25, W.D. 7.3 mm (M-783N)
– IOS LWD W-PLAN PH 20x/0.40, W.D. 6.8 mm (M-784N)
– IOS LWD W-PLAN PH 40x/0.65, W.D. 3 mm (M-785)
Semi-Apochromatic LWD for brightfield:
– IOS LWD U-PLAN F 4x/0.13, W.D. 18.52 mm (M-800)
– IOS LWD U-PLAN F 10x/0.30, W.D. 7.11 mm (M-801)
– IOS LWD U-PLAN F 20x/0.45, W.D. 5.91 mm (M-802)
– IOS LWD U-PLAN F 40x/0.65, W.D. 1.61 mm (M-803)
– IOS LWD U-PLAN F 60x/0.75, W.D. 1.04 mm (M-804)
Semi-Apochromatic LWD for phase contrast:
– IOS LWD U-PLAN F PH 20x/0.45, W.D. 5.91 mm (M-1177)
– IOS LWD U-PLAN F PH 40x/0.65, W.D. 1.61 mm (M-1178)
Related Documents:
---

OPTIKA - IM-5 - Technical Datasheet – EN
- 0.00 KB

OPTIKA - IM-5 - Instruction Manual - EN IT ES
- 5.26 MB
---